In the various countries, the Omicron's spread is reaching its peak during this holiday season. On Monday, the Israeli hospital started a study to check the effectiveness of the Forth dose of the Covid-19 vaccine. They are trying to find out that how much the fourth dose of vaccine is helpful against the Omicron variant. The result of initial research on the Omicron variant shows that the infection is not very severe. However, it is infecting thousands of people around the globe.
The Sheba Medical Center Officials said this is the first study in the whole world that involved the fourth dose of the Covid-19 vaccine. They are administrating the fourth dose to 150 people who received their 3rd dose of vaccine four months ago. The results of an initial research study of Sheba Medical Center are also expected in the coming days. Moreover, the latest situation of Omicron's spread rate is arising several questions regarding Omicron variant.
It is the latest move in research on Covid-19 vaccinations by Israel. Moreover, this new step taken by Israel to fight against the Omicron variant is under the spotlight now. According to the Covid-19 live data, a record number of new cases of Omicron infection are reported globally. A medical health professional warns that there may be a chance of several more deaths due to coronavirus.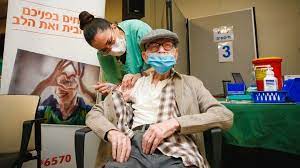 A Global Situation of Omicron's Spread is Uncertain
The worldwide situation of the Omicron variant is highly uncertain. No one can say anything with confidence. Israel starts the trial of the fourth dose of vaccine against the Omicron variant to see its effectiveness in this uncertain current situation.
Everyone is eagerly waiting for the upcoming results of this latest move made by Israel to protect people against the Omicron variant. Professor Gili Regev-Yochay, a leader of this new study said that this fourth dose will provide protection to older people or those having a high risk of illness. Furthermore, a rapid omicron spread around the world completely changed the mood of the holiday season. A surge of Omicron variant replaces the joy and happiness of the start of the New Year with distress and worries.