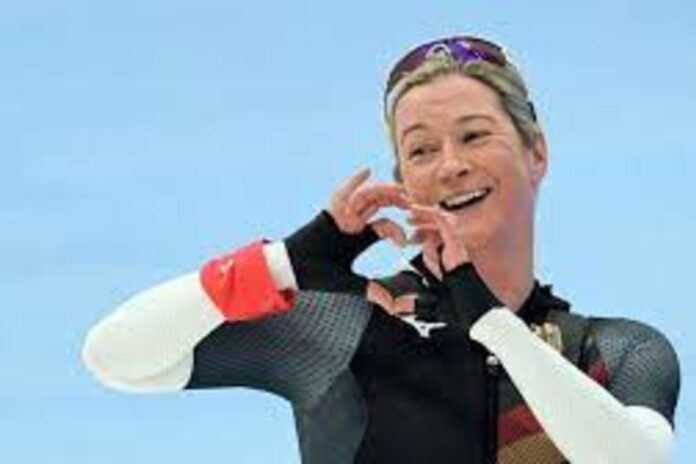 "Age is just a number" a very common saying among people. Some people proved that really age is just a number and will not effect on your performance. Few Olympic Competitors in Beijing Winter Olympics 2022 are the true example. Claudia Pechstein, a German Speed Skater is the oldest Olympic's competitor. A most senior participant among male and female participants of Beijing Winter Games.
Several interesting events are the part of the Beijing current winter games. Most interesting is the participation of oldest speed skater from Germany.
On Saturday, the 49 years old, Claudia Pechstein made a record of most Winter Olympics participation after completing the women's 3000m gold medal race.
In 1992, she participated first time in the Winter Olympics. The 49 years old Claudia Pechstein is highly experienced and won 9 Olympic medals during her whole career. In her 9 Olympic medals, 5 are gold ones. She is a legendary sports figure in Germany, that's why she was also a flag bearer for the Germany team at Friday's opening ceremony.
Olympic's Oldest Competitor: Result Is Not Important, It is Special that I Participated
In addition to this, Pechstein also faced two years of the ban due to the use of performance enhancing drugs. But, she denied that she didn't take any such drugs and Court of Arbitration for sport also confirmed it.
Moreover, she is not at the peak of her performance, but even performing in the right Olympic of her career is indeed an achievement. No other woman in sports managed to do it in this age of 49.
When Claudia Pechstein completed her gold medal race, she smiled and celebrated her achievement. She said that she knows that she was not very fast, but performing in eight Olympic of my life is very special for me.
In addition to this she said that she carried her country flag yesterday and it was a very special moment of her whole career.